Pro IoT 5-Band
SKU: 460119
25 dBm max uplink

Up to 15 dB gain

Built-in passive RF bypass failover

Hardwire and security kits available

3 Year Warranty
from Purchase

Tailored Solutions
Custom System Design

Assembled & Shipped
from a U.S. Facility
---
Product Description
Pro IoT 5-Band
Ideal for custom-designed IoT communication systems built within tightly constrained spaces, the IoT 5-Band cell signal amplifier's power and compact design make it a trustworthy "Direct-Connect" solution.
Compatible with all U.S. carrier networks and equipped with an impressive uplink power of up to 25 dBm and up to 15 dB max gain, the IoT 5-Band connects directly with cellular modems to ensure strong, reliable connectivity in weak signal environments. In the event of a power failure, the passive RF bypass failover feature allows the cellular modem to keep going to help guarantee successful IoT data transfer.
The IoT 5-Band's compact form factor is ideal for custom designed IoT communication systems built within tightly constrained spaces. FCC certified, the IoT 5-Band allows OEMs to source a compact, powerful, and highly compatible cell signal amplifier that comes ready to deploy. In locations where cellular connectivity is adversely affected by distance to cell towers, terrain obstructions, or building materials (like concrete and steel), the IoT 5-Band is a proven go-to solution.
The IoT 5-band is offered in three different kit options:
The basic kit; ideal for ATMs, vending machines, or movierental kiosks with access to AC power outlets.
The hardwire kit with DC power supplied by a vehicle to amplify cell signal for an LTE-modem hotspot.
The security kit with MMCX cables to interface with cellularbased home or business security systems.
Made for 5G – WilsonPro's customizable cellular signal repeater solutions support the latest in 5G technology. 


Custom Kit Options
Contact your authorized sales rep to customize this repeater kit for any installation: 
SKU 460219 – Hardwire Kit includes: Mini-Magnet antenna, 6ft. RG174 Cable and 12V DC Hardwired Power Supply
SKU 461119 – Security Kit includes: Omni Antenna, 12ft. RG-316 w/MMCX, 12ft. Adapter w/MMCX, 10ft. RG-58 w/SMA, 30ft. RG-58 w/SMA, and 5V / 4A A/C Power Supply

Warning: Cancer and Reproductive Harm - www.P65Warnings.ca.gov
How it Works
Pro IoT 5-Band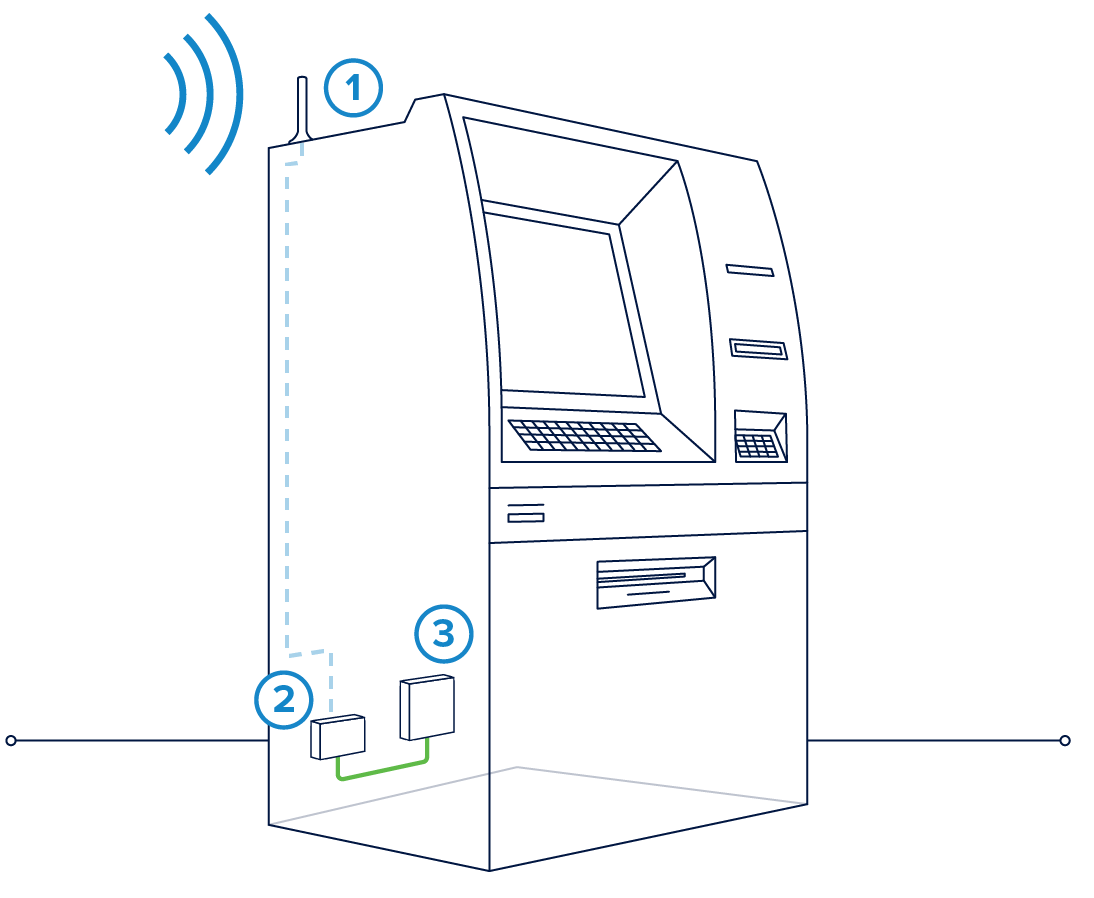 The powerful antenna receives cellular signal and delivers it to the booster.
The booster amplifies the signal and serves as a relay between the cellular modem and the cell tower.
The cellular modem performs more efficiently as it feeds data to the booster and stays connected to the network.
Key Features
25 dBm maximum uplink power, 15 dB max system gain

Designed to link with a data modem as a direct-connect amplifier

Improves overall cellular connectivity in weak signal environments 

Configurable to almost any Internet of Things (IoT) installation

Bi-directional amplification boosts signals to and from cell towers 

Passive RF bypass failover keeps modem going if power is lost

Auto-power control to help ensure maximum signal output 

FCC-approved and compatible with all US carrier networks

Choice of Basic, Hardwire, or Security Kit options
Ideal For

IOT/M2M
Applications
Specs
Model
460119
Frequency
Band 5 850 MHz
Band 12 700 MHz
Band 4 1700/2100 MHz
Band 13 700 MHz
Band 25/2 1900 MHz
Max Gain
15 dB
Max Uplink Power
24 dBm
Max Downlink Power
-3 dBm
Impedance
50 Ohm
Power
110/240 V AC, 50 -60 Hz, 5 V DC - 5A
Connectors
SMA Female
Dimensions
1.25 x 3.5 x 6.25 in
Weight
1.085
See what WilsonPro can do for you
Fill out and submit the form. We'll review how WilsonPro can solve your unique business challenge. Then, we'll connect you with an authorized WilsonPro provider who can prepare an estimate on an in-building cell signal amplification solution—customized to fit your needs.