Managed Services
Built-in, automated, and accessible from anywhere.

Managed Services
Built-in, automated, and accessible from anywhere.

Max Coverage
Efficiently cover more than 100,000 sq. ft.

Advanced Tech
Install the latest in 5G amplification technology.
Zinwave Uniwave
Uniwave from Zinwave is our new innovative, streamlined DAS platform developed to meet in-building cellular and public safety connectivity needs. It supports 2G, 3G, 4G and 5G as well as Public Safety and other private radio networks. Available in 3 configurations, SISO, MIMO and 4×4 MIMO. Uniwave by Zinwave is the DAS solution that is simple. That's part of our appeal. Get improved in-building cellular and public safety connectivity with a system comprised of just five total components: primary hub, secondary hub, optical module, service module and a remote unit. The Uniwave Remote Unit serves all frequencies from 150MHz to 5GHz. It's this simplicity that makes the design and installation both easy and flexible, resembling how WiFi infrastructure is installed.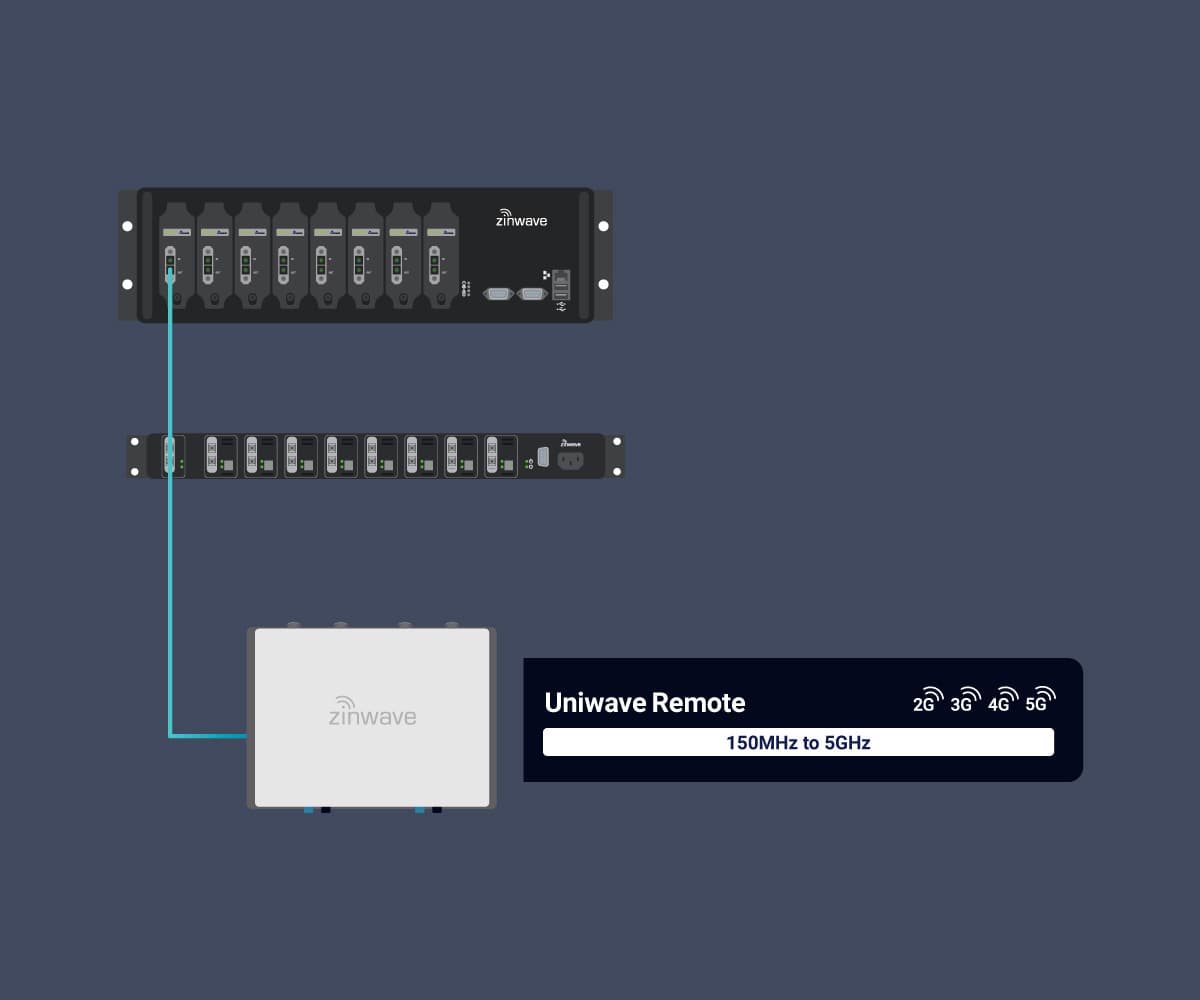 Zinwave Unitivity 5000
Unitivity 5000 from Zinwave has been leading the way in DAS for over 10 years, it has been the unique technology behind Zinwave's success. It comprises of two remote units, the Low Band Remote (150MHz to 2.7GHz) & Mid Band Remote (3.3GHZ to 4.2GHz) covering all of the mobile frequencies used globally. Unitivity 5000 allows up to 80% space savings and 17% energy efficiency, a built-in power supply for fewer parts and a universal mounting bracket for easier installation. The new Uniwave product combines the frequency capabilities of both the Low and Mid Band remotes into one Ultra Wideband Remote, that also delivers a higher RF output power making coverage and dominance easier to achieve.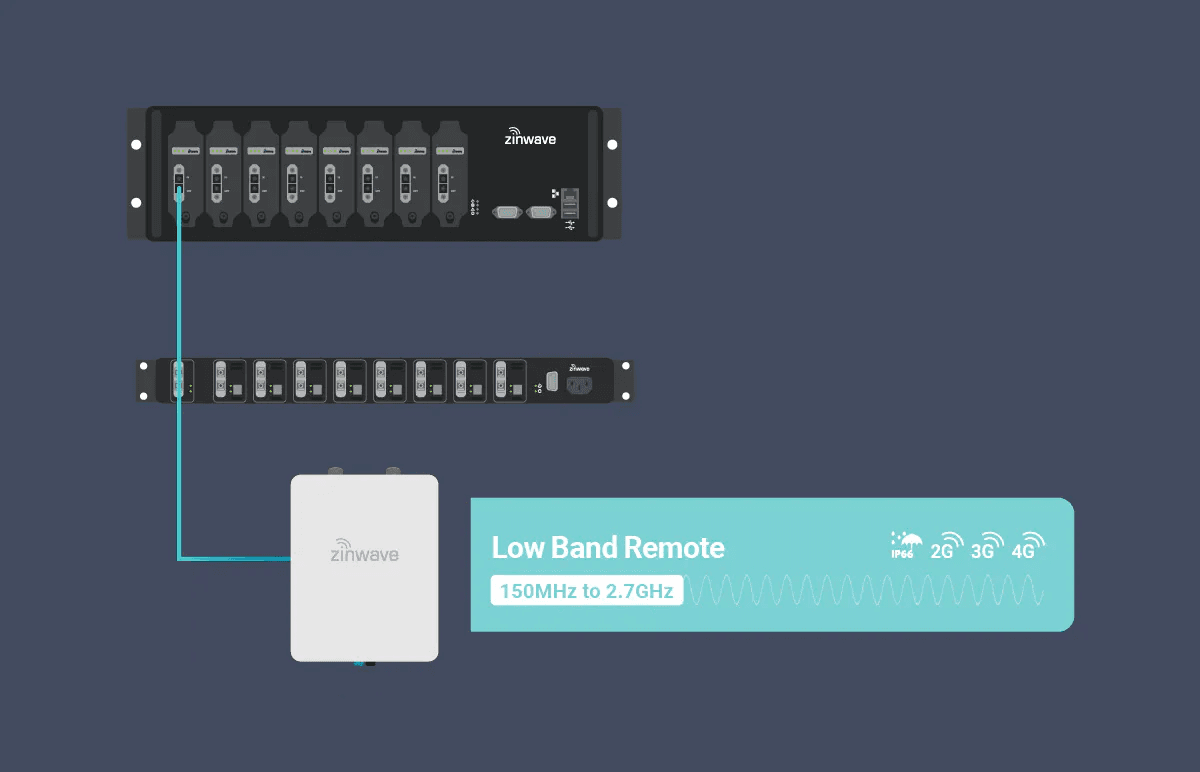 Frequently Asked Questions About In-Building Signal Repeaters
Why do I have poor cellular signal in my building?
Today, even the strongest signals have trouble finding their way through concrete, stonework, brick, insulation, coated glass, and metal used to construct modern energy-efficient high-rises, offices, and other large buildings. WilsonPro cellular signal repeaters detect any available signal outside the building, then bring it inside and amplify it for more reliable coverage wherever and whenever anyone in the building needs it.
Who can benefit from an enterprise cell phone repeater?
Enterprise businesses, large organizations, government departments, franchises, factories, and any group that regularly experiences poor call quality in a large building should consider a customizable 5G cellular signal repeater solution.
How do customized 5G signal repeaters work?
Cellular signal repeaters, sometimes called boosters or amplifiers, detect any existing signal outside the building, then brings that signal inside, amplify it, and broadcasts the strengthened signal to all nearby devices. WilsonPro's enterprise and commercial solutions are designed to adapt to any building and any environment for optimal signal in any industry.
Why choose WilsonPro?
WilsonPro uses the latest in cellular signal amplification technology to enhance 5G coverage on every frequency. Our trusted, high-quality products are used in a range of industries by brands like Facebook, CHOC Children's Hospital, Whole Foods, Hyatt Place, and more. With more than 250 patents, including multi-tower targeting, time division duplex, and extended dynamic range technologies, our repeaters amplify every frequency for every device at all times. WilsonPro Cloud makes it easy to offer managed services with the ability to monitor and manage signal from any location. Every WilsonPro product is backed by a 5-year manufacturer's warranty and a 30-day money-back guarantee. All of our products are designed, assembled, tested, and shipped from a US facility.
What Can WilsonPro Do For You?
Want to learn more about WilsonPro's unique solutions and managed services? Submit some information, and we'll be in touch soon.